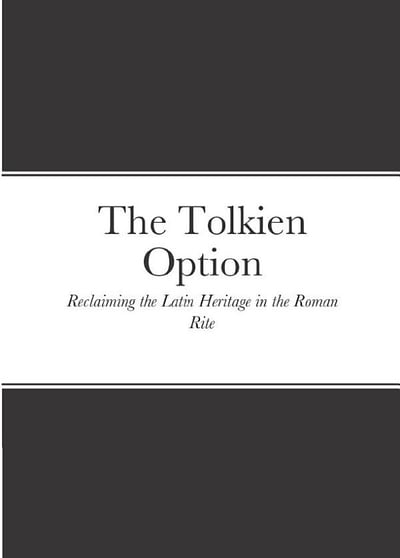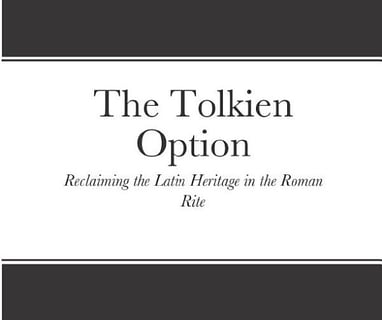 Reclaiming the Latin Heritage in the Roman Rite
4"x7" paperback, 36 pages, ISBN 978-1-329-12117-1, released 28 Sep 2021
J. R. R. Tolkien's grandson, Simon Tolkien, recalled:
"I vividly remember going to church with [My Grandfather] in Bournemouth. He was a devout Roman Catholic and it was soon after the Church had changed the liturgy from Latin to English. My Grandfather obviously didn't agree with this and made all the responses very loudly in Latin while the rest of the congregation answered in English. I found the whole experience quite excruciating, but My Grandfather was oblivious. He simply had to do what he believed to be right…" (The Mail on Sunday, 2003)
This small book is offered to laity determined, regardless of the action or inaction of our clergy, to reclaim our heritage and restore Latin to its rightful place in our liturgy. I do not necessarily advocate passive-aggressively proclaiming the Latin responses loudly and, perhaps, disruptively, as did Professor Tolkien. Responding in Latin in a low voice is entirely permissible.
Roman is our Rite. Latin is our right.
The use of the Tolkien name has not been authorized or otherwise endorsed by the Estate of J. R. R. Tolkien.
Nor have use of excerpts from the text of the Novus Ordo Missae as published in the Missale Romanum, editio typica tertia emendata of 2008 and the English translation of The Order of Mass © 2010, International Committee on English in the Liturgy, Inc. (Roman Missal, 3rd ed.), been authorized or otherwise endorsed by the copyright holders.
Finally, endorsement and permission for publication in the forms of the imprimatur, nihil obstat, &c., have been neither sought nor obtained from any ecclesiastical authority.